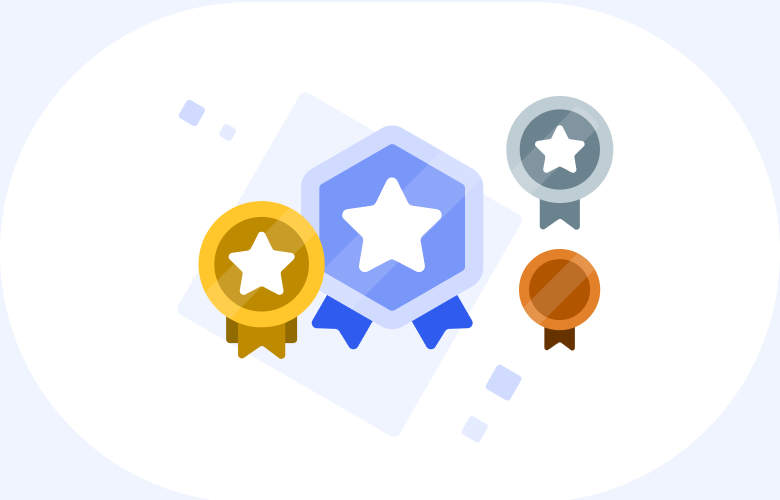 We're excited to share that the new Wish Standards program launched this month. Wish Standards is a way for Wish to refine performance rewards, offer transparency around merchant expectations, build customer and merchant trust, and elevate the Wish shopping experience. Wish Standards is an enhanced version of the now deprecated Merchant Standing program. It follows a similar tier rating (Platinum, Gold, Silver, Bronze) - that allows us to build a new, stronger foundation to better define merchant expectations and build customer trust.

By defining clear expectations, we formulate perks to reward merchants who meet those expectations and take corrective action against merchants who do not. This creates a cycle for well-performing merchants to always operate at a higher standard. Let's start by looking at the differences between tiers.
Wish Standards Tiers of Success


The rewards provided to your account will be determined by a tier system within Wish Standards. Merchants may fall into one of the following four tiers:
Platinum
Gold
Silver
Bronze
The higher your tier, the more benefits you can expect to receive. Qualification for each tier will be based on each merchant's performance on a variety of metrics¹ including:
User feedback ratings
Order fulfillment rate
Valid tracking rate
Fulfillment speed
Refund rates
And general compliance with Wish policies
Now that you know all about the different tiers, let's talk about their benefits!
Impression Boost
As a merchant, one of the first things you need to drive sales on any platform is sufficient impressions. Customers must have the opportunity to see and learn about your products and your store. To do this, your products need to appear in their search results or one of the product feeds. Wish Standards helps you increase revenue by boosting the number of impressions users may see for your products.
Merchants who demonstrate dedication to a strong customer experience may be rewarded with more impressions, whether it's in the main Wish homepage feed or in one of the many side feeds we feature in our app. We also want to highlight quality merchants in more direct ways. If you are a highly performing merchant under Wish Standards, you will be known to your customers as a Premier Merchant. We will provide Premier Merchants with exclusive access to special collections in our app that will be featured on our upcoming new homepage design.
Merchant Highlights
Now that you have more impressions for each of your products, the other thing you might need for increased sales is the ability to get noticed and stand out compared to other products on our platform. If you're a Premier Merchant, when a user sees your listing in the feed, they will see a special Premier Merchant badge that will help your listings stand out from the others.
Clicking through to the product details page, the user will be able to see the "Premier Merchant" designation clearly displayed on your listing as well. This designation will help educate customers about the quality of your products and services, and may improve your conversion rates. Customers can find out more details about the quality of products and services you provide by clicking into the badge and reading about the Premier Merchants program.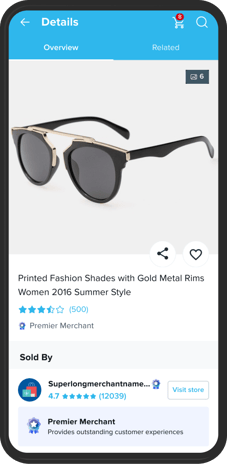 Faster Pay
We know that getting paid is important, and that faster payment cycles allow you to re-invest more quickly in growing your business. That is why we will also aim to pay top tier merchants more quickly under Wish Standards, so that you can access your cash faster.
For more information, make sure to check out the Help Center article on Wish Standards.
Getting Started With Wish Standards
Merchants do not need to sign up or take any action to join Wish Standards, as participation is automatic for qualifying merchants. To qualify to join Wish Standards, merchants will need to reach at least 50 orders that are considered matured² within a 90-day window in the few months prior to launch.
You may view your tier and performance metrics on the Wish Standards Performance Dashboard in Merchant Dashboard and Merchant Plus dashboard. You will be able to see:
Your tier rating, and the benefits associated with each tier.
Your key metrics, and your current performance in those metrics.
Which areas you are doing well in, and which areas need improvement.
What you can do to reach a higher Wish Standards tier.
We will update your metrics and your tier status regularly, so that you can use this as a barometer of your recent performance on the Wish platform.
While it may sound complicated, Wish Standards is simply a way for Wish to refine performance rewards, offer transparency around merchant expectations, build customer and merchant trust, and elevate the Wish shopping experience. Be sure to check out the Help Center article on Wish Standards for more information. If you're not a Wish merchant already, make sure you sign up for your free account and check out the Wish Merchant Blog.
---
¹Metrics are subject to change at any time, without notice, in Wish's sole discretion
²An order is considered a matured order when Wish determines that enough time has elapsed for an accurate assessment of fulfillment status and customer satisfaction. Order maturity time may differ from order to order.